Ride to work, ride for your health, get away from it all with a weekend adventure. Here's a bike that does all of the above. With its comfortable positioning and smooth ride quality, Escape is the way to go.

With its lightweight ALUXX aluminium frame, confident handling and fast-rolling 700c wheels, Escape lets you ride any road or path in comfort and style. It's a great choice for commuting, fitness riding, or just for fun. This versatile all-rounder is designed with a flat handlebar and upright rider position, which gives it a confident, sporty feel that's suitable for city streets or country roads. It also comes with rack and fender mounts so you can add accessories to make it fit your needs.
This versatile flat-bar all-rounder can get your legs spinning and motivate you to be active every day. Commute to work, ride to class, find new adventures in your daily routine.

Highlights
With its lightweight ALUXX aluminum frame, upright positioning and high-quality parts that give it a smooth, comfortable ride, the Escape Disc is totally versatile and totally fun to ride. It now features a high-quality composite fork* and innovative D-Fuse seatpost. Both are great for smoothing out rough roads, absorbing shocks and vibrations, and giving you a smoother, more comfortable ride. The disc brakes deliver powerful braking performance in dry or wet conditions, and the 700c wheels with Giant EasyRide Tubeless tires (on select models) keep you rolling with speed, efficiency and a reduced risk of flats. As an added bonus, there's clearance for larger tires up to 45mm in width, which makes it easier to ride rougher roads. It comes with integrated mounts, so you can customize your ride with racks or fenders. Whatever road or path you choose, Escape Disc is ready to roll.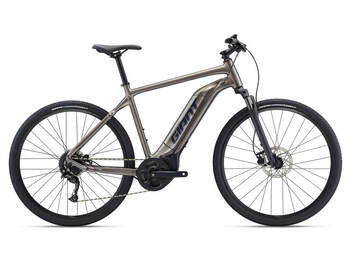 Choose a route, any route. With its all-road capabilities and smooth, natural pedaling support, this versatile E-bike helps you ride smooth roads, rough roads, bike paths or trails.

How far can I expect to ride on a single battery charge?
The range for a single battery charge can vary greatly depending on conditions such as the combined weight of the rider and cargo; wind resistance; tyre pressure and tread profile; terrain and elevation changes; road or trail surface; outdoor temperature; maintenance of the E-Bike; and the condition of the battery.












---
Accessibility
Explore new places, new roads and new adventures with the 150 km* range of the reliable EnergyPak battery. The SyncDrive Core Motor delivers 50Nm of torque and has six speed control settings, offering up to 300% pedal assistance. *Actual range depends on several factors including weight, elevation, terrain and acceleration.
Powered for Fun
The reliable EnergyPak 400Wh side-release battery is beautifully integrated into a lightweight and durable ALUXX SL-Grade aluminum frame for a bike that zips along on longer adventures.
Smooth Riding
SyncDrive motor technology smooths out bumps along the ride, and RideControl on the handlebar provides easy access to select pedal assist functions and view battery levels.



---